With Cristiano Ronaldo and Lionel Messi getting on abit and the likes of Neymar and Gareth Bale currently in their prime, it got me thinking … who's next in line to the throne after these stars?
With so much young talent playing in leagues all over the world, from the Bundesliga to the Premier League, it can be hard to keep an eye on just who will make the cut and who will slip away out of the limelight.
In this article, AFEFootballNews brings you 15 stars that I believe can go far in the next few years. Some of these you may already know, but others you will grow to know.
So without further ado, in no particular order, here is my list of those youngsters who could boss the next decade of football for club and country …
Gianluigi Donnarumma
Age: 18 years old.
Position: Goalkeeper.
Club: AC Milan.
This boy has frightening potential.
Having only just turned 18, Donnarumma has established himself as AC Milan's number one this season and has already made over 50 appearances for the club, having made his debut when he was just 16.
He's made a reputation for himself as a strong keeper in one on one situations and a fine penalty stopper. He became a hero when he saved Pablo Dybala's penalty in a 4–3 shoot-out win over Juventus following a 1–1 draw after extra time in the Supercoppa Italiana.
The 6ft 5′ stopper is also seen as the perfect replacement for Italian legend Gianluigi Buffon for the national side, having made two appearances for the Azzurri so far.
No keeper has ever won the Ballon D'or before but the likes of Manuel Neuer and Oliver Kahn have come close to doing so. Could Donnarumma be the one to finally show the world that Goalkeeper's are important to the spine of a team?
Nicklas Sule
Age: 21 years old.
Position: Centre Back.
Club: Hoffenheim (Bayern Munich as of summer 2017).
At 6ft 5′, Sule was born to be a strong and commanding centre back.
Having bossed the Bundesliga playing at the heart of Hoffenheim's defense for nearly three seasons now, Sule will be making the move to the Allianz with Bayern Munich as of summer of this year, as they were quick to swoop in and secure his signature back in January.
With his brute strength and terrifying aerial presence, Sule could be a fitting player to fill the shoes of Mats Hummels or Jerome Boateng, for both club and country, should their careers ever take a turn for the worst.
Jonathan Tah
Age: 21 years old.
Position: Centre Back.
Club: Bayer Leverkusen
It seems as though the future of the Germany defence is well and truly secure with both Sule and Tah making their way through the ranks.
At 6ft 3′, Tah is another tall and dominant centre back who uses his strength to keep the opposition out and has cemented his place in Bayer Leverkusen's first team since moving there from Hamburg in 2015.
He's making a name for himself as one of the best defenders in the Bundesliga right now and at 21 years old, he has plenty of time to grow into an even better player.
If alongside Sule for the national team, the German's  could be on to something special.
Ousmane Dembele
Age: 19 years old.
Position: Winger.
Club: Borussia Dortmund
Dembele is another young star who is currently catching the eye of many spectators of the Bundesliga.
The Frenchman has played a big role for Dortmund this season and has been the standout promising youngster amongst the many that the German side currently have, including, Alexander Isak and Christian Pulisic, who are looking to break through into the first team.
Dembele has scored six goals and assisted 10 for his team-mates, adding a real attacking threat to the side. This, as well as his pace, has meant that many scouts have been keeping tabs on him all season long.
If his form continues, he could become one of the world's best players that for sure.
Kingsley Coman
Age: 20 years old.
Position: Winger.
Club: Bayern Munich
Another young star in the Bundesliga, although Coman is actually on loan at Bayern Munich from Serie A side, Juventus.
At 20 years old, the tricky winger has already won leagues titles and cup doubles in France (with PSG), Italy (with Juventus) and Germany (with Munich) and represented his country (France) at the Euro 2016, helping them reach the final on home soil.
These incredible achievements at such a young age, as well as his dribbling skills, vision and blistering pace and his ability to play as a winger or a striker, have placed him as one of the most promising players around.
He may turn out to be Ribery or Robben's long term replacement should Bayern decide to buy him from Juventus.
Dele Alli
Age: 20 years old.
Position: Central Midfielder.
Club: Tottenham Hotspur
No stranger to Premier League fans, Alli has become one of the league's best players since he burst onto the season early on last season. He now regularly makes headlines for Spurs and has scored 13 goals in 26 appearances in the league this season.
Alongside compatriot Harry Kane, he has formed a deadly partnership which has seen the North London side climb to second in the table. Fans of England will be licking their lips at the performances of the wonderkid and will no doubt be hoping that he could become a key figure for the national side in years to come.
His goal-scoring record, as well as his ability to create space for team mates has seen him become a threat to the opposition and at such a young age, it is quite incredible to think that he's only just at the beginning of his rise to stardom.
Unlike Ross Barkley or Jack Wilshere, who were both deemed to be the next big things for England, Alli's consistency has proven that he may just be the real deal. Keep an eye on Dele, cos he could be as big as Lampard or Gerrard if his form continues.
Marco Asensio
Age: 21 years old.
Position: Attacking Midfielder.
Club: Real Madrid.
It's fair to say that when it comes to producing naturally gifted attacking midfielders, Spain is the gift that keeps on giving. From Iniesta, David Silva and Xavi to the more recent examples of Koke and Isco, it seems that Asensio is next in line to take over that role.
Regarded as Real's next big thing, he's only made 13 appearances for the club so far, but has scored three goals in the little amount of playing time he's had.
With great vision, silky passing and an eye for goal, it's not hard to see why Real can't wait to introduce him into the first team. The more game time he'll get, the better he will become and it may not be long before we see him become a regular for club and country.
Kylian Mbappe-Lottin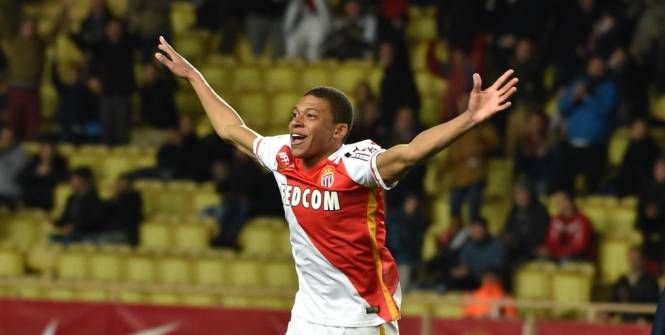 Age: 18 years old.
Position: Winger/Striker
Club: AS Monaco
How many players have been dubbed "The next Thierry Henry" in the past few years? Quite a lot to be honest, although surely nobody will ever actually be as good as him. Anthony Martial was the most recent example before his move to Manchester United, now however, it's Mbappe's turn to take that title.
Monaco are currently and rather surprisingly top of Ligue 1, ahead of rich boys PSG and young Frenchman Mbappe has played a vital role in helping them get there. He has scored 10 goals and has 7 assists to his name in just 21 appearances this season.
The wonder kid has also impressed in the Champions League this year. He scored in Monaco's 5-3 defeat to Manchester City last month and had many pundits and fans alike talking about his performance which was beyond his years to say the least. Here he is making a mug of City defender, Nicolas Otamendi (twice) …
On the international scene he is currently playing for France's under 19's side and has an impressive record of seven goals in 11 games for them. He helped them win the under-19 2016 UEFA European Championship by scoring five goals and almost single-handedly secured their spot in the final with a sparkling performance in their 3-1 semi-final win over Portugal.
He may never be the next Thierry Henry but he could very well be special in years to come.
Youri Tielemans
Age: 19 years old.
Position: Central Midfielder
Club: RSC Anderlecht
This guy will be no stranger to fans of the FIFA game franchise, but he's quite the player in real life too.
The young Belgian is held in high regard by many and although he's still playing in the Belgian League, some may argue that it's the best thing for him in terms of helping him progress as a player.
Rather than being stuck on the bench of a massive club, Tielemans is thriving for Anderlecht's first team, scoring 12 goals and having 8 assists from the centre of the park is a decent tally. Some of the goals he's scored are absolutely unbelievable and he's capable of doing it with both feet too, have a look at these two stunners he scored in one match against KV Oostende …
He's currently being monitored by many of Europe's giants, including Manchester United and Inter Milan, so it won't be long before he makes that big move. For now though, he'll continue to work his socks off for Anderlecht and prove just what he can do.
Renato Sanches
Age: 19 years old.
Position: Central Midfielder
Club: Bayern Munich
This boy will be the best player in the world in three to four years, in my opinion (you can hold me to that).
Sanches proved what he was capable at Euro 2016. In a tournament where Portugal were poor overall, they still managed to walk away as eventual champions of the tournament for the first time in their history.
The youngster played a huge role in that success, slotting into the centre of their midfield and displaying both an attacking and a defensive threat. His physical presence is truly incredible for a man of his age and he has been likened to Dutch legend Clarence Seedorf for his style of play.
Last summer, Bayern Munich swooped to sign Sanches for £35 million from under the nose of Manchester United (Who could have save a lot of money had they signed him instead of Pogba!). Although, he doesn't play often for Bayern, there's no doubting that he'll soon make the breakthrough into their first team and when he does he's very likely to cement that place for a long time, unless he moves clubs of course.
Keep an eye on this boy, because he is going to be a star!
Leroy Sane
Age: 21 years old.
Position: Winger
Club: Manchester City
After making a name for himself playing in the Bundesliga with Schalke, Sane made the move to the Premier League with City in a deal worth around a whopping £40 million.
Since then he's played a few times for the club, mostly as a sub, due to the presence of Raheem Sterling and David Silva in the first team. However, when he has played, he's shown his quality, scoring goals against "top four" rivals Arsenal and Tottenham.
He's also beginning to break into Germany's national squad too, having been selected in their squad for Euro 2016.
With his blistering pace and willingness to pick out a team mate running through on goal, he could become a key player for City if he's given a chance.
Marcus Rashford
Age: 19 years old.
Position: Striker
Club: Manchester United
He may have slipped a little from the limelight since Mourinho took over at United, but there's no doubting that Rashford has the potential to go far.
After bursting on to the scene during last season with a double against Arsenal on his Premier League debut. He then became the youngest scorer in the Manchester derby when he scored against City. People were beginning to take notice of the new boy on the block at Old Trafford.
As the media hyped Rashford up more and more each week, and England call-up became all the more likely. He was selected for the Three Lions' Euro 2016 and despite some people's concerns that it was too early in his career for him to be playing for his country, he actually played well when given the chance and put some of the older, more experienced players to shame.
He's been limited to the bench since the arrival of Zlatan Ibrahimovic at Old Trafford last summer, but with his calm as you like approach to finishing in one one situations and ability to score important goals, it's fair to say that United have a useful weapon sat on that bench.
Kelechi Iheanacho
Age: 20 years old.
Position: Striker
Club: Manchester City
On the sky blue side of Manchester, they too have a young  goal machine of their own.
Nigerian Striker Iheanacho actually has a very similar record to Rashford's when put head to head stats wise (12 goals in Prem 42 games, compared to Rashford's 8 in 32 and he too burst onto the scene last season, covering for the injured Sergio Aguero up front. He finished the 2015-16 season as City's third highest scorer, with eight Premier League goals to his name and had the best goals-per-minute ratio of ANY player averaging, a goal every 93.9 minutes.
His tally is equally as impressive on the international scene. He made his debut for Nigeria's first team in 2015 against Swaziland and has scored four goals in just seven appearances since.
With rumours increasingly suggesting that Sergio Aguero may be on his way out of the Etihad this season, could we be seeing Iheanacho lead the line for them next year?
Breel Embolo
Age: 20 years old.
Position: Striker
Club: Schalke
Swiss International Embolo has received high praise from many pundits worldwide and some have drawn comparisons between him and Chelsea legend Didier Drogba, because of the way that he uses his physical presence to torment defenders.
He's a cool finisher of the ball and for a big man, he uses his pace very well.
He made his professional debut for Basel back in March 2014, and won the Swiss Super League in all three of his first seasons before moving to Schalke for an initial €20 million last summer, with a record of 21 goals in 61 games for Basel. He was ruled out for the remainder of the 2016/17 season after suffering a horrific injury back in October, but did manage to score two goals in seven games for the club before that.
Embolo made his senior international debut in March 2015 and represented Switzerland at UEFA Euro 2016. He's scored two goals in his first 15 caps for his country.
His Balotelli-esque style of play has had many people bigging him up as one for the future and if he gets a chance at Schalke once he's back from his injury, then I'm sure that he'll prove just why.
---
All stats correct as of March 14, 2017. All pictures courtesy of Google image searches of the players name and belong to original owners. Videos belong to rightful owners on YouTube.