FOR a long time now there's been a debate amongst football fans and pundits as to whether or not top teams, particularly those in the Premier League, are giving their youngsters a chance to break through their youth systems and into the first team.
Chelsea, in particular, have come under fire for the amount of players that they have out on loan (over 30 last season) and are often criticised for not giving the likes of Tammy Abraham, Charly Musonda or Kenedy the chance to shine.
With news that Nathaniel Chalobah and Nathan Ake have just left Stamford Bridge as well, it certainly seems as though the London club are not learning from past mistakes.
My recent interview with AFC Fylde's Henry Jones sparked this question once more, as he claimed that he felt he had to leave Swansea City and join Bangor City in order to escape the "Under 21 bubble" that he was stuck in at the South Wales club.
Now that accusation may possibly have been out of pure bitterness for the way that the club had treated him (despite the fact that he seemingly enjoyed the majority of his time there) but I was willing to explore the possibilities that he may he just have a point.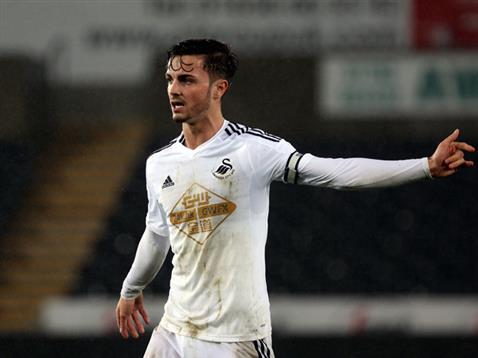 It got me thinking … how many more of the former Swansea youngsters who were once deemed a "top talent" had to make the move away from the club in order to restart their careers. Here's what I came up with …
Tom Holland is one of the latest former Swansea youngsters to join the Welsh Premier League. Although he actually began his career at Bradford, the 20-year-old midfielder then became a member of the Swansea City development squad. He was promoted to the first team bench for an EFL Trophy tie at Wimbledon last August, but never went on to make a first team start. Sick of being farmed out on loan, he's now opted to sign for Welsh champions TNS permanently in the hope of playing more first team football.
He's not the only one who's decided to give up on the English League's and make the move to Wales though. Right back, Daniel Alfei signed for Aberyswtyth Town in September 2016 having been released by the Swans. He represented and captained the Wales under-19 team and starred for the under 21's too and despite playing a handful of games for Swansea, he still managed to be sent out on loan four times. The 25-year-old was always considered to be one of Swansea's next big things, however having now just spent a season at Aberystwyth, where he impressed at times, he's now decided to move on again.
James Loveridge is another player that came to the Welsh League's in order to have that chance to shine. The 23-year-old forward was also farmed out on loan to both Newport and MK Dons before deciding to leave Swansea indefinitely in 2015, signing for Port Talbot, where he has remained since.
Others, have left the Swans but have opted for the lower leagues in England to find some more playing time.
Jazz Richards, who was part of the unforgettable Euro 2016 Wales side of last summer, left Swansea in 2015, having made just 39 appearances in six years at the Liberty Stadium. The 26-year-old defender has always been a reliable option in my opinion and should have been given the chance to play more often in the absence of Angel Rangel, who was regularly injured at one point. Since leaving the Swans, he has had a successful spell at Fulham (which led to his inclusion in the Euro 16 squad) and now plays for arch rivals Cardiff City.
Not many people know that Emyr Huws came through the ranks at Swansea when he was a youngster between 2004 and 2009. Of course, he was poached away from the club by Manchester City in that year and has had a hit and miss/journeyman career since, but could we say for sure that he would have become a regular starter for Swansea? I'm not certain on that one. Now at 23 years old, he's just signed for Ipswich Town where he is looking to kick-start his career once more.
Welsh goalkeeper David Cornell was once seen as an ideal back-up for the likes of Michel Vorm and Lukasz Fabianski. Eventually, the Swans opted to bring in Kirstoffer Nordtfelt as a number two and that effectively ended his Premier League career. Just a single appearance in the league in six years at the club and four loan spells later he went on to play for Oldham. He's now at Northampton and is 26 years old. Wasted potential if you ask me, he played for Port Talbot on loan back in 2011 and looked a decent shot stopper.
Perhaps one of the most frustrating of all the prospects in recent times, was Gwion Edwards. The winger is talented, there's no doubt about it. Edwards was a permanent fixture in Swansea's reserves team, winning Reserve Team Player of the Year in 2011–12. Despite that though, he failed to make a single appearance for the first team and like many others before him, was loaned out in order to gain "invaluable first team experience". His nightmare ended in 2012 when he signed for Crawley Town. He's now at Peterborough United, becoming a much loved figure there last season having scored seven league goals.
Of course, there are all the players who we never got to see making an appearance for the first team, but I do understand as well that Swansea's youth side has created success stories.
Ben Davies went on to make over 80 appearances for the Swans before his move to Tottenham in 2014 and has since played 30 times for Wales senior side. Joe Allen made 150 appearances for the club before moving on to Liverpool and more recently Stoke City and he too is a full Welsh international.
It will be interesting to see now which of the current crop of Swansea's youngsters will make the breakthrough into the first team.
Josh Sheehan is a highly talented midfielder, but he again has been loaned out on a number of occasions and at 22 years old, he looks almost certain to have to leave in order to get that chance to play regular first team football. The most promising young star they have at the moment, who has progressed through their ranks, is most probably Daniel James, who I think could go on to big things with the club.
I think it's also fair to say that the Welsh Premier League, in contrast to "popular" belief, can help progress many players' careers and if they choose to sign up in the WPL then it is most certainly not the end of the world for their careers.
Mark Delaney, who was at Carmarthen went on to play for Aston Villa and for the Welsh national team on a number of occasions. Tom Bradshaw, who started off at Aberystwyth, went on to play for Walsall and is now at Barnsley. Lee Trundle went on from Rhyl to Wrexham and then of course became a Swansea City legend as is now an Ambassador for the club.
Therefore, whilst yes it is a step down for players from Swansea to the Welsh Prem, it is not an entirely negative thing. The negative thing is that English Premier League clubs are not giving true young talent the chance to show what they can do.
Swansea are a bit hit and miss in terms of giving their youngsters a go in my opinion, there are definitely worse clubs than them in terms of not bringing players through, but it seems as though they're certainly not helping the cause at this moment in time.
If you know you're never going to play them in the first team at any point in the future, just let them go, that's the only way they'll truly grow as players.