Age: 23
Nationality: Welsh
Position: Midfielder
Current club: AFC Fylde
Former clubs: Swansea City and Bangor City.
LAST season, fans of the Welsh Premier League, and of Bangor in particular, were impressed by talented midfielder Henry Jones, so much so that he went on to scoop the WPL's "Young Player of the Season" and City's "Supporters Player of the Season" awards.
The 23-year-old was also named in the Welsh Prem Team of the Season as he helped his club reach the Europa League qualifiers via the play-offs.
His incredible debut season with the Citizens, in which he scored 14 goals and created 10 in 32 appearances was bound to attract attention from beyond Wales, so it was no surprise to see newly promoted National League side AFC Fylde swoop in to sign him on a one year deal just a couple of weeks ago.
A former Wales Under-21 international, Jones began his career with Premier League side Swansea City and was always considered to be one of their "next big things".
He had risen up through the ranks from the age of eight before turning professional at 18. He then starred for the Swans' Under-21, but like so many other talented players in the Premier League's youth sides, was never given the chance to shine.
He joined other former Swansea youngsters who opted for the WPL, such as Aberystwyth's Daniel Alfei, when he signed for Bangor last summer.
Last season, Bangor certainly brought out the best in the midfielder as he appeared to be a class above the rest in the WPL often. I have no doubts that he will now continue to flourish as a player by playing for Fylde, who are a very ambitious side.
AFFootballNews recently spoke to Jones and he kindly answered some questions. Enjoy!
AFE: What made you want to become a footballer? And who was your idol when growing up?
HJ: To be honest, I never thought about 'becoming a footballer' because I just loved playing football from day one and so that's all I've ever done or wanted to do.
My Idol growing up was Cristiano ronaldo when he was at Manchester United, I was just a youngster when he was there and loved to watch him.
AFE: You were once in the youth sides of Swansea City, who would you was the best player there at the time?
HJ: There were a lot of good players who were there at the same time as me.
It's just a shame they often don't get the chance that they deserve in the first team in the Premier League, because the club isn't a club that has a reputation for bringing players through unfortunately.
AFE: Who's the best player you've come up against so far?
HJ: The best two players I have played against are Romelu Lukaku (Chelsea, West Brom and Everton) and Raheem Sterling (Liverpool/Manchester City).
As for the best players I've come up against in the WPL, i'd probably go with Ryan Brobbel and Simon Spender (both TNS), because it would be too tough to choose just one.
AFE: What made you want to go to Bangor City when you did?
HJ: I wanted the chance to play first team football week in, week out, as I knew it would help make me a better player and move my career along again.
I also wanted to get out of the 'under 21 bubble' I was in at Swansea City.
AFE: How did it feel to be voted as the Welsh Prem's "Young Player of the Season" last year? As well as Bangor's supporters player of the year!
HJ: It was a very special feeling for me because I knew that I'd worked hard to get myself in to a position that I wanted to be in before the season had started. It was nice to get a reward for the work I put in to the season.
AFE: Was it a hard decision to make leaving Bangor for Fylde? What influenced your decision the most?
HJ: I went to meet the manager there (Dave Challinor) and he was excellent.
He came across very well and showed me around the stadium which looks fantastic. He also told me about me about the clubs aspirations and I could see right away that they are a very ambitious side, whose hopes matched my own because I feel that I'm a very ambitious individual.
Everything about Fylde just felt right to me, the stadium, the training ground, and the prospect of playing in front of much bigger crowds every week were all factors in me moving on in a direction that I believe is the right one.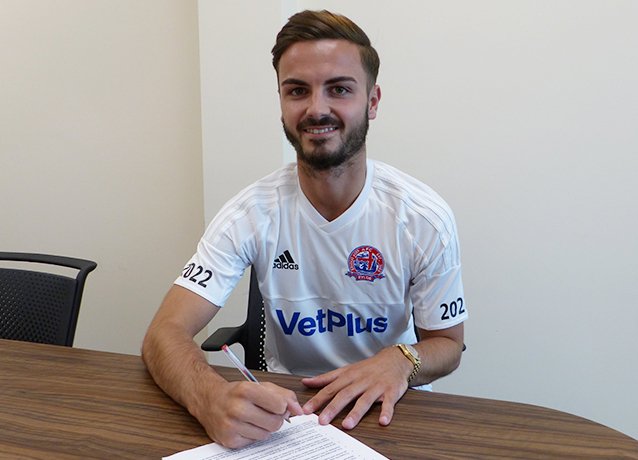 AFE: What are the realistic aims for Fylde as a club heading into the 2017/18 National League now?
HJ: Like I said, I  think we are very ambitious side.
I see no reason as to why we won't be competing at the top end of the table with the other big clubs in the League.
AFE: Any advice to the young footballers who are currently trying to make it into the game?
HJ: I'd tell them to just keep going, keep believing in themselves and never give up no matter what.
Jones' departure will come as a huge loss to the Welsh Premier League, as after personally watching him ply his trade in Nantporth last season, I can tell you that he is a quality midfielder who will give his all to Fylde.
Thanks for talking to AFEFootballNews Henry and all the best with the season ahead!