Age: 28
Height: 5ft 10in
Club: Llandudno FC
Previous clubs: Wrexham, Kidderminster Harriers, Chester, Northwich Victoria and Colwyn Bay.
2015/16 saw Llandudno play their first season in the Welsh Premier League and an incredible debut campaign saw the Seasiders finish third in the league, claiming a Europa League qualifying spot in the process. The club's stand out star was forward Marc Williams who scored 16 goals in 32 league appearances and his excellent form propelled him to new heights, earning him the WPL's prestigious player of the season award. However, it should be noted that it wasn't just his goals that made him stand out, his willingness to track back to defend, his work rate and his ability to create chances for those around him on the pitch proved that he was a level above all other players too.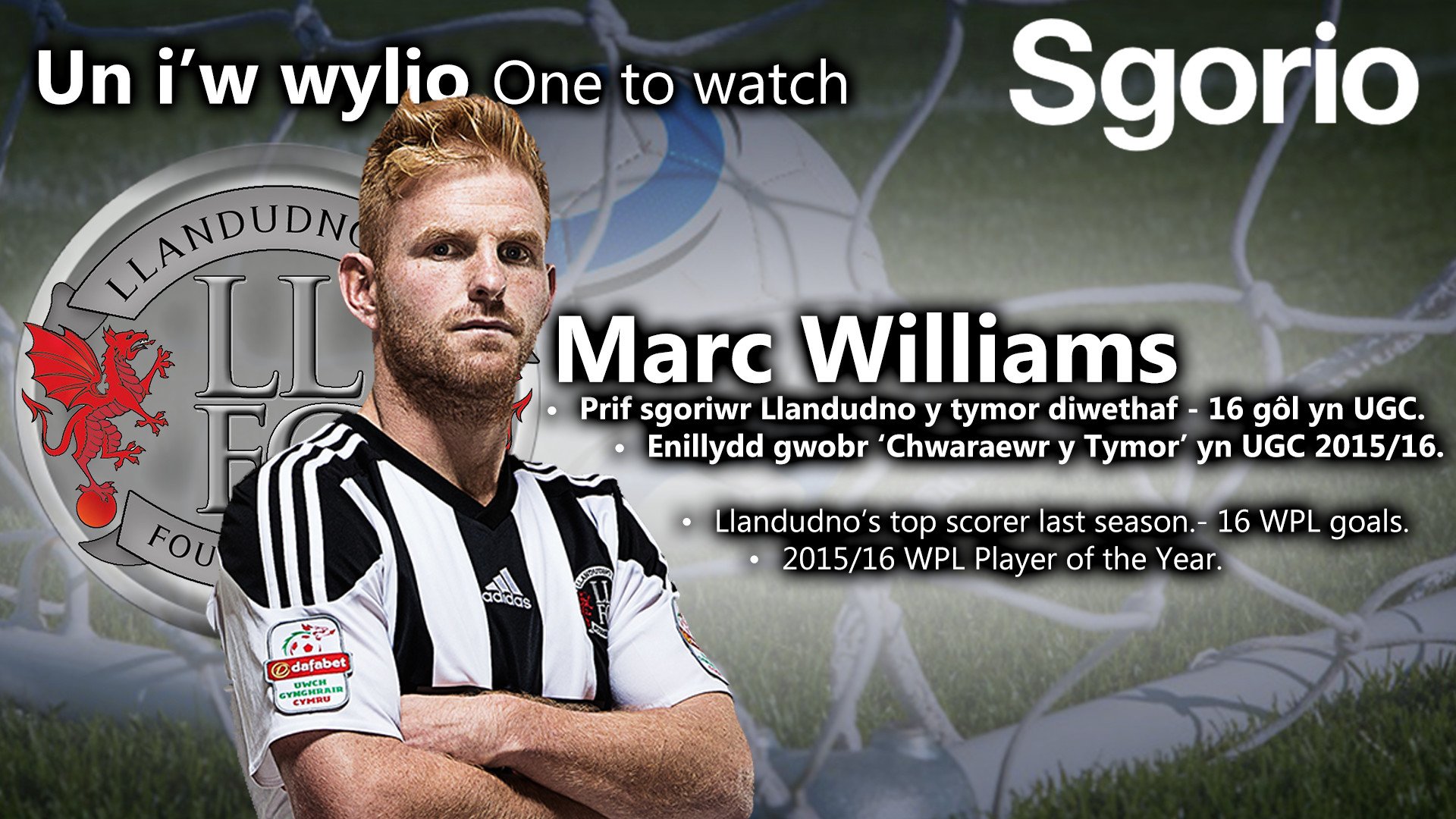 Footballers of today are often portrayed by the media as being arrogant men who let their reputations get to their heads and in truth many of them are, but Williams is as down to Earth as any human being can possibly be. Upon meeting him, I immediately noticed that he was a friendly man who is honest and open to talking about his career decisions and despite having a contrasting season to the last with Llandudno this year, maintains a positive attitude, insisting that his current ankle injury will not halt his progress.
So without further ado, here is the first ever player interview article on AFEFootballNews; and here is what Williams' himself had to say …
AFE: Hi Marc, let's start with a simple one … What made you want to become a footballer?
MW: It's every lad's dream, once you get given a ball, you just never want it to be taken away from you. Me and my older brother Mike (who also plays for Llandudno) grew up in Penmaenmawr and we both aspired to someday become professional footballers and we both went onto eventually play in the English leagues with Wrexham.
AFE: The racecourse has a special atmosphere doesn't it?
MW: I loved playing there. In one season, I scored 17 goals in 20 games and there were rumours of me being approached by big clubs like Millwall and Leeds. Dean Saunders was manager at that time and he had told me that I did not need to sign for a club in higher leagues because he was going to take Wrexham back to where they belonged. I believed him because he believed in me and I wanted to remain loyal to him and to the club I had been at since I was nine years old. I later got injured in that season and my form dipped. I sometimes look back and think what could have been if I had made the move to one of those clubs, but when you're 20/21 years old and scoring game after game in front of 5,000 fans at the Racecourse it would have been hard to say goodbye.
AFE: Which club do you support?
MW: Manchester United, most of my family support them.
AFE: Who was your idol when growing up?
MW: Maybe it's to do with the biast of having ginger hair, but Paul Scholes has always been the player I look up to. He made playing football look so easy and dictated everything from midfield, if he slowed down the play then everybody else around him did and his ability to spread the ball wide was incredible.
AFE: So with the classic "who's better; Gerrard, Lampard or Scholes?" question you'd go for Scholes then?
MW: I don't like those kinds of debates, it's like the Ronaldo vs Messi debates, I feel that we're all lucky to actually have witnessed three players of such class during our time. Gerrard was a player who could win you a game and Lampard was a player who could score you 20 odd goals a season, but for me Scholes was the perfect player who could do everything.
AFE: In the past you've played for the likes of Wrexham, Kiddeminster Harriers and Chester. How does playing in the Welsh league compare?
MW: It's very different in the fact that the National League is one that's highly physical and most of the defenders you come across there are big strong lads, whereas in the Welsh Premier League, teams arguably play more football the way it should be played, with teams like us and Newtown and so on playing it from the back. Connah's Quay are a club who could play in the conference due to their physical nature. The Welsh league is lower in standard or quality but the gap between the two leagues is not a massive one.
AFE: Who is the best player you've ever played alongside?
MW: Aaron Ramsey without a doubt. I was included in the squad for Wales under 21's match against Italy (a UEFA qualifying campaign match in 2009) although I didn't get to play due to the likes of Ched Evans, Simon Church and Sam Vokes (all fellow strikers) all being named in the squad too. I remember Rambo having a terrible first half, every pass he attempted went wrong, but his head never dropped and he refused to shy away from the ball. He came back out in the second half and scored an unbelievable volley. I knew just from watching him in training that he was going to be something special because some of the stuff he could do with the ball at his feet were frightening and made you wonder: "How did he do that?"
AFE: Any other players spring to mind?
MW: When I was at Wrexham I played alongside John Walters, who's now gone on to play many seasons with Stoke in the Premier League and he was a gifted player. It's a weird feeling watching him on Match of the Day. He actually gave me a pair of his shinpads, which are a bit of a collector's item!
AFE: Who's the best player you've ever played against?
MW: This is a tough one. It's going to sound really strange but I'd probably have to go for Mark Williamson. I was a youngster playing in the number 10 role at Wrexham (in League 2) at the time and he was playing at center back for Wycombe and everything I tried to do, he would be right behind me clearing the ball away and just generally bullying me every time I got near him. He kept saying to me during the game: "you're just a kid!" and he's right, I was! It was the first time I'd ever been happy to be substituted. I came off at half time and realised the difference between reserves football and first team football at Wrexham. People think that playing as a number 10, you can get always past a defender with a little flick or turn, but that's not always the case, you have to be relatively strong to survive. I began strength training sessions after that match, it was a real learning curve for me. Williamson went onto play in the Premier League with Newcastle so he did quite well.
AFE: Best goal you've ever scored?
MW: Most people would probably go with my goal against Port Talbot last season, because it was up for goal of the season and let's be honest it should have won shouldn't it? (laughs). For me personally though, I'd go for a goal that I scored against Oxford in my final season for Colwyn Bay. Do you remember Paul Scholes' volley against Aston Villa? The one that went off the crossbar and in?  Well the shot I hit was a little bit like that one, only it didn't hit the crossbar, it just flew right into the top corner. It's not on video anywhere so unfortunately I'll never get to look at that goal again!
AFE: You had a fantastic season last year Marc, what was the highlight for you?
MW: From a team perspective, it was getting into Europe because that was obviously a huge achievement for the club. From my own perspective, it was an incredible feeling to with the league's player of the season award because I could never have imagined that happening. Winning as a a team is more important than individual achievements for me and and I can honestly say that the morale and the atmosphere in that Llandudno changing room last season was the best that I have ever been a part of at any point during my career.
AFE: How did it feel to play in the Europa League qualifying matches against Goteborg?
MW: It was a great experience for everyone and although the first leg in Sweden didn't go too well (Goteborg won 5-0), I feel that we improved so much for the return leg (a 2-1 loss at Bangor's stadium). They're a fully professional team so there was no shame in losing to them, we matched them for most of that game in Bangor, but the difference was that they were more clinical in the end.
AFE: Do you think that another club can truly challenge TNS for the title someday soon?
MW: No. The financial backing that they have is greater than most clubs in the league of course, but it's so much more than just that. They're the only fully professional team in the league and so that puts them way above everybody else, they train pretty much everyday which means that their fitness levels are so much better too and they have players in every position who can score a goal for them. Craig Harrison doing a great job there and they've also got Steve Evans as their defensive coach now. They look like a really dominant side and I don't think anybody will be taking their title any time soon if I'm honest.
AFE: Finally, a controversial one for you … Would you ever consider joining Bangor City in the near future?
MW: I have a story for you about this one actually. A couple of season ago, in between my two spells at Colwyn Bay, Nev Powell (who was Bangor manager at the time) contacted me and wanted to sign me. I was promised a few things by him and the board and I was literally a signature away from signing for the club, but one of those promises was broken and I decided against it in the end. I had to go grovelling back to Colwyn Bay after I had told them that I wasn't going to extend my contract there, but luckily they took me back and I spent another season there before signing for Llandudno. As for the future of my career, who knows? I once said I'd never play for Chester but I still ended up going there in the end! I'd love to return to Wrexham one day, but we'll see what happens.
An interesting conversation and one that gives an insight into the life of a footballer in the Welsh Premier League, thanks for that Marc!
Oh and just in case any of you were wondering what that goal against Port Talbot looked like, skip to 1:47 in the video below and take a look: